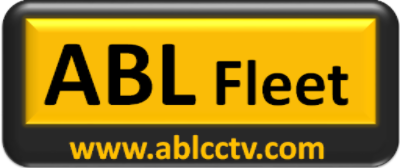 ABL Fleet is a combined CCTV and Tracking Solution designed to monitor every day operations of your fleet, reducing potential health & safety issues and security threats while allowing for full management, monitoring and reporting on the operation of connected vehicles
ABL Fleet is offered as three series. Below is a list of the key features offered by each series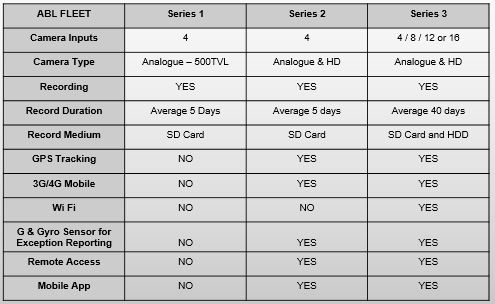 Real Time CCTV Recording and Live Display On Board (Series 1, 2 & 3)
Simple Operation (Series 1, 2 & 3)
GPS Tracking and Logging (Series 2 &3)
Integral G & Gyro Sensors to detect abnormal operation (Series 2 &3)
Remote Access (Series 2 &3)
Customer Programmable Monitoring Exceptions (Series 2 &3)
Exception Driven Reporting to Customer (Series 2 &3)
Defined and Scalable Reporting (Series 2 &3)
Video Verification of events
Exception and Abnormal Event Monitoring & Reporting
Accident / Incident Verification
Driver Performance Monitoring & Recording
Health & Safety Management
Route & Area Geo Fencing
Cargo Compartment Security
CCTV Cameras are placed in key areas around the perimeter of the vehicle to provide coverage as required by the customer.
Supplied cameras are designed and manufacturer specifically for mobile applications. They are small in size and designed to work in both internal and external environments and blend in well with the design of most vehicles reducing the risk of accidential damage.
A 7" Monitor provides the driver with the image of the reversing camera when the vehicle is reversing and it automatically reverts to the passenger side view when the vehicle is in motion to allow the driver observe his/her blind area. The monitor can be flush mounted within the dash board or mounted on the dash with the included mounting bracket.
The ABL Fleet Mobile CCTV Recorder is located within the cab and it stores between 5 to 30 days footage, depending on series purchased, and then auto overwrites hourly as the disk fills. Playback can be carried out on board using the supplied remote control.

ABL Fleet Series 2 & 3 come with a 3/4G Mobile Modem. By installing a SIM card a user can dial in remotely to the ABL Fleet Server to view live images from their vehicle, view live tracking and review video footage and tracking detail of past movements of their vehicles.
Key features of remote accees:
Connect to your vehicle via pc, tablet or smart phone app
Monitor and review live images, data and videos
Set up operational parameters and create exceptions and define reporting
Programme, modify and update parameters directly to one, some or all vehicles
Provide system access to your customers or third party
ABL Fleet Software and link to ABL Fleet Server
Can Provide live video and track feeds to your customers if desired
Alert to any possible system issues or failures.
Sample Playback Screenshots - ABL Fleet PC Software: